HEDGEHOG TALK - 19TH SEPTEMBER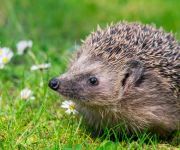 Come on down to Radway Bridge on Wednesday 19th September to learn more about our spikey friends.
Maureen Baker-Williams of Hollycroft Hedgehog Rescue, has been rescuing and caring for hedgehogs since 2005, and will be returning to Radway this September, along with a few of her prickly companions!
Join us to learn all about our native, hedgerow-dwelling neighbours.
This is a FREE event, however dontations to the rescue centre are always much appreciated.
No booking required!
DATE: WEDNESDAY 19TH SEPTEMBER
TIME: 11AM-12NOON
LOCATION: RADWAY BRIDGE GARDEN CENTRE, WHITESTONE, HEREFORD, HR1 3RX
Date: