Terrarium Workshop - Thursday 2nd November 2023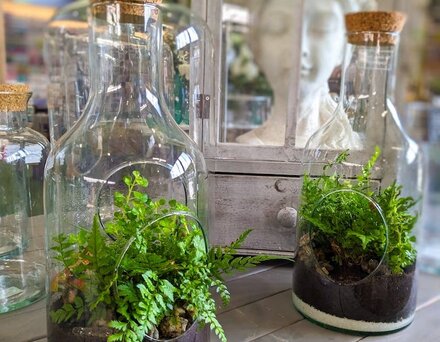 Thursday Nov 2nd 2023 - 15.00 to 17.00
With Dr. Manos Kanellos, Plant Physiologist and author.
Create You Own Living Garden, in a Bottle!
A home terrarium is like having a small living jewel in your home. The perfect gift for a special Mum, daughter or sister; a lovely afternoon plus a beautiful talking point for the home.
Be guided by an expert, to design your own Terrarium to take home and treasure.

The Ticket Price includes:
A stylish glass terrarium
3 - 4 suitable plants for you Living Garden design.
Decorative additions to personalise your creation.
All materials required - clay pebbles, peat free soil and activated carbon.
(WORTH £70 )

Ticket - £45
Radway Bridge Garden Centre
Whitestone, Hereford, HR1 3RX
Telephone: 01432 850 009
Date: