Niteforce Fireworks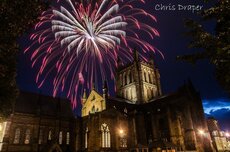 With 28 years of experience in pyrotechnics firework displays, Julian Morris has established a reputation for high-quality creative firework displays.
The choice of experts to welcome home British Paralympian Sascha Kindred, Julian, and the Niteforce team delivered a display to remember at Hereford Cathedral.
Julian and the team use digital split-second time firing systems to deliver impressive displays for weddings, anniversaries and special events. Corporate events are also within the Niteforce remit.
Opening Hours
Main Season - October, November December - Open 9am til late
Open by Appointment, out of main season.
Visit our Website: http://www.niteforce.co.uk/
Contact Julian Morris on:
01432 760173
07971 452922