Environmental Policies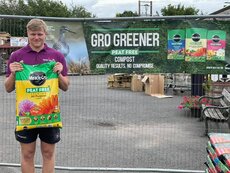 Environmental policy
Water - Here at Radway Bridge we recycle our harvested rainwater to water all of our plants and keep them in tip top condition. We collect rainwater from all of our greenhouse roofs into a giant water storage tank, of which holds all of the valuable water we need to keep our plants hydrated and healthy. Not only does it reduce the amount we are using from the mains but also maintains and supports or plants too.
Solar - We have hundreds of solar panels covering our roof space here at Radway Bridge. Allowing us to use little power from the grid and run much of what we use in store from sunlight alone. In the spring and summer months on a good day the store can solely be ran on solar power alone. Again reducing the impact on the environment.
Biomass - We use a biomass boiler system which is a sustainable way to provide the store with heating and hot water by using a renwable energy source such as woodchip.
Peat free compost reducing peat- We ensure we educate all our staff and customers of the benefit of using peat free compost can have on the planet. We now have around 90% of our compost range we offer in store and online is now peat free and actively encourage customers to use. Much of our range is also organic.
Recycleable packing - we try to use /choose products from suppliers that use recycled packing and recycleable packaging where possible.
Compostable Carrier Bags - our carrier bags are 100% biodegradable. Made from cornstarch, once you are finished with our FREE Radway Bridge carrier bag you can simply throw it onl your compost heap and it will biodegrade within 90 days. Not only does this help the planet but also helps your plants!
Composting - Rather than throw away any plant waste or cuttings we may have in the plant area. We compost all vegetation and compostable materials to degrade and then be used again on site further down the line.
Cardboard / Paper - not only do we recycle our cardboard so it can be put to good use later in life. We also offer recycling in its best form, first hand to the customer. We always actively offer suitable cardboard boxes to customers to use for their plants and goods purchased in store to

keep them safe in the card and to carry them home in.

We compact and recycle all of our cardboard and paper waste, our staff are also encouraged not to print off unnecessary documents. We minimise paper waste by making a committed effort to cut down on paper-based marketing, with the majority of our external advertising being electronic.

Recycle plastic - We recycle all suitable plastics here at Radway Bridge. We even now offer a pot recycling service where we can take your old garden pots back at our collection point in store. We then offer them out to good causes such as local schools or gardening groups. If we have surplus we then ensure they are recycled and put to further good use through our recycling schemes.

We also try to ensure that as many of our pots we either grow in or buy in from suppliers are made from recycled plastics and/or are recyclable.

Not only do we recycle plastics but we also focus heavily on trying to only sell recycled plastics in our products. So we try our best to ensure items we know have been made by giving waste a second life and not harming the environment any further than it already has.

Many greetings cards are now plastic free, with no unnecessary sleeve

We have extended our range of eco propagation products – including bamboo and recycled pots, paper pot making device etc.

Vehicles - Here at Radway Bridge our next step is to look into electric vehicles for our company delivery vans. Also to look into installing electric charging points for staff and customers to use at our Hereford Store.

We actively encourage to ride share when coming to and from work. Limiting the amount of cars we are putting on the road each day.

Promoting growth of trees - Being a plants centre we obviously care strongly about plants, plant health and how they can also be positive for our own health too. This is why we promote the planting and growing of trees in your gardens at home. This creates a better and healthier environment for everyone to live in both humans and wildlife.
Wildlife - not only do we stock an array of wildlife products instore to help promote diversity in the species you welcome into your garden at home. But also on site here at Radway Bridge we put many factors in place to ensure the safety of wildlife and to encourage them to thrive in the lovely natural setting we have out on the outskirts of Hereford. We regularly feed the birds and other wildlife, this also giving the plant area the tranquil sound of birdsong when you are selecting your next addition for the garden.
Support Local - We aim to source local products wherever possible. Not only does this mean low travel miles for the stock to get to our shop floor here at a Radway Bridge. But it also helps promote and build the local economy and celebrate all that Herefordshire has to offer all under one roof here at the garden centre.
Wood - we regularly recycle wood here at Radway Bridge not least from the many pallets we have delivered with stock on everyday. We either use it for large projects like you can see in our Mulberry Cafe where we have refurbished our entire cafe from recycled wood. But also for smaller works such as repair display stands and plant benches outside.

Alternatively we send majority of our pallets back into the system to be reused again and again for delivering goods to shops.

Lighting - Not only are we heavily run on solar power, also our store and car park lighting on timers or motion sensors, so that they only come on when needed (and when it is dark)·

We have converted the majority of our light fittings to LED to reduce our energy usage·

Food & Drink - All of our food in the Mulberry cafe is home cooked on site every day. We use local ingredients as much as we can, including meat, fish, vegetables and bread.

We also try to use as many of our amazing local suppliers for the products we stock in our food hall.

FSC - We only sell wooden goods from reputable companies that source sustainable wood

Many of our products contain the FSC (Forestry Stewardship Council) logo which guarantees the wood used has come from forests managed with consideration for people, wildlife and the environment, and that the trees harvested are replaced or allowed to regenerate naturally

Plant Health - all of the plants that aren't grown on site in the nursery here at Radway Bridge Garden Centre carry a plant passport which mean they are traceable right back to the source. Allowing a chance of disease to be stopped at the first hurdle and preventing any outbreaks harming the environment.

Our knowledgeable team outside here at Radway Bridge Garden Centre are trained to look out for and treat effectively any pests or diseases in a safe and swift manner to prevent any further outbreak of a any disease.

Products - More and more we try and focus our product buying in its prevention to environmental harm wherever possible. We try and use organic products where we can especially when it comes to chemicals you are going to use in your garden. A vast array of our plant feeds and other chemicals are organic and safe for children and pets, although you should always read the label. Although we do offer more and more that are safer and kinder to the environment, we are only here to educate and not dictate what you use on your garden at home.
Community - we try and support the local community in as many ways as we can here at Radway Bridge. By employing our staff from the local and surrounding area. Not only providing a welcome boost to the local economy but also reducing the carbon footprint created by our team getting too and from work.

We encourage working with schools, to encourage young people to get green fingered and into gardening

Supporting local charities, we support local charities, groups and schools in as many ways as we can to again help boost the local community and improve lives where we can.
GET INVOLVED
If you feel there is anything further we can do to help the environment in any way shape or form at all here at Radway Bridge Garden Centre & Country Stores then please do get in touch at [email protected]