Our Hereford Restaurant
As you start thinking where you will be going for dinner you will consider two main factors – the variety and quality of the dishes, and the ambience of the restaurant. In Hereford, restaurant goers are many, and most of them have tried out the Radway Bridge garden centre's Hereford restaurant – The Mulberry Cafe. From the comments and reviews we receive from those who have visited our restaurant, we can safely say that they were extremely satisfied because the selection of food was impressive and the freshness simply stunning. This is because we pride ourselves on the fact that all the food and even the beverages at our restaurant are homemade or local delicacies. This is definitely one of the main reasons behind the success of our Mulberry Cafe Hereford restaurant.
Visit our Hereford restaurant a gorgeous
ambience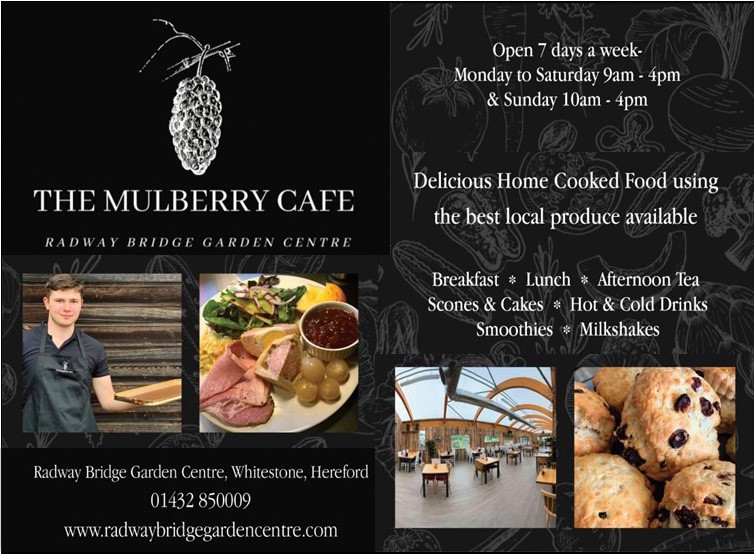 Restaurant quality homemade meals at the Mulberry Cafe in Hereford.
Another key reason why The Mulberry Cafe is so popular is because of the gorgeous ambience, overlooking the beauty of the plants and trees we have for sale at Radway Bridge garden centre.

After browsing through the great products we have here in our garden centre our customers always leave us feeling satisfied. However, all that shopping can be hard work, so to make their visit all the more memorable and that little bit easier, The Mulberry Cafe is right here. Offering some delicious food and drinks this gives them plenty of time to relax and unwind. Whether you are stopping for a simple freshly brewed cup of coffee or some tea when shopping alone, or this is a great restaurant to socialise with friends and family you can opt for something a little more adventurous with one of our delicious local beer or wines. As well as drinks we have a large range of delicious dishes to choose from too, including our exquisite homemade meals. There is a selection of both hot food as well as cold food items, making this a great dining option at any time of the year.
Come and see us at Hereford's Favourite Restaurant
We look forward to seeing you here very soon and we hope you enjoy it as much as the rest of our customers do!