Welcome to Radway Bridge Garden Centre and Nurseries
Hereford's finest garden centre and nurseries
We are an established nursery and garden centre offering a wide range of interesting and unusual plants.
Radway Bridge is a family owned business and we care deeply about helping people to develop their gardens in cost effective and unique ways.
Relax with the knowledge that in our pursuit for bringing you into our family of lifelong customers, we will be keen to do whatever it takes to help you.
Our Gardeners Club
We invite you to join our Gardener's Club! The aim of the Club is to make sure you are receiving the very best we have to offer and to reward your customer loyalty with a whole host of benefits.

Join our Gardeners Club free today
Giftcard balance check
Please enter the last 9 digits of your giftcard and your pin to check the balance of your card.
Plant of the Week: Roses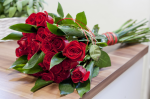 'A rose by any other name would smell as sweet', said the Bard, and whatever name they go by roses undeniably take the prize for the most delicious scent in the garden. Perfume adds yet another dimension to a flower already blessed with perfect petals in a kaleidoscope of romantic colours.
Since it's prime rose-planting time right now you've got the perfect excuse to add to your collection. From palest pink climber 'Madame Alfred Carriere' to swoon-inducing Bourbon rose 'Madame Isaac Pereire', there are dozens of roses which major on scent – so fill your garden with sweet, spicy perfume this summer!
Hedges good enough to eat
For something a little bit different, try planting an edible hedge for a dual-purpose boundary with all the benefits of a hedge and a generous harvest to boot. Blackthorn is laden with fat purple-black sloes in autumn, while elder is fast-growing and you can use the flowers to make cordial. Other edible hedgerow plants include snowy mespilus for its sweet black berries, Myrobalan plums and dog roses for their hips.