The Upholstery Workshop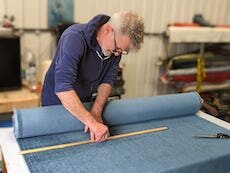 Jim Croysdale Traditional Upholstery is the answer to all your upholstery requirements and projects.
Based Here at Radway Bridge Garden Centre on the Worcester Road Hereford, Jim offers a personal and friendly service. You are guaranteed a frame to fabric, adaptable and professional upholstery service that will satisfy all your requirements.
Jim's existing client base is largely in Herefordshire, but also extends through the Cotswolds and Oxfordshire to London and beyond.
Whether you're looking for cushion covers, a change of fabric or complete renovation of a piece of furniture, Jim Croysdale is available to provide advice on-site or at the workshop.
Opening Hours
By appointment
Tel: 01531 890139
Email: [email protected]