Shire EVERHOT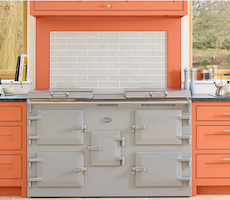 Welcome to Shire Everhot
We're proud to showcase six Everhot models as well as their little cousin the stove. Ranging from the EVH60 to EVH150i we are passionate that you get see your model before welcoming one into your home. Our range will always be made up of the core colours Graphite, Cream and Dove Grey alongside more vibrant colours to guide your decisions
Based in Herefordshire, at Radway Bridge Garden Centre you can peruse the Everhot range cookers 7 days a week. To meet with Jed Smith to discuss details and share requirements please call or email the number below; he will do his best to accomodate this.

.

Our Cooking Demonstrations
We are delighted to welcome customers to our Cooking Demonstration Sales Events at Shire Everhot, Radway Bridge Garden Centre showcasing our range of Everhot cookers.
Our next demonstration will be
Wednesday 11th October, 2023 - 11.00 am.
​If you are thinking of investing in an Everhot range cooker, then this FREE event is a must. Our expert David Pengelly will take you through a day in the life of an Everhot and show you just how versatile a modern, efficient range cooker can be. The event includes an overview of the cooker and a brief technical explanation of installation requirements all whilst sampling an array of Everhot cooked delights.
​The demonstration will cover:
Why Choose Us?

Arranging an In-home Visit

Showcasing of Models and Colours

Expert Knowledge and Advice

Cooking Demonstrations

Relaxed Showroom setting.

FIND OUT MORE ABOUT EVERHOT https://www.shireeverhot.co.uk/
Tel: 07971545991
Email: [email protected]