Seasonal Salad Bar @ The Mulberry Cafe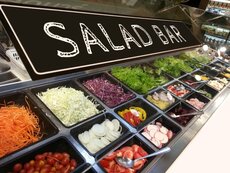 Salad bar @ The Mulberry Cafe
We are excited to be starting a Seasonal Salad Bar at our very own Mulberry Café here at Radway Bridge Garden Centre
The Salad Bar will be operating though the summer months and replacing the carvery.

This will be running along our normal menu.

A choice of at least two roasted meats, including beef, gammon and turkey. All sourced locally from Mark Hurds Butchers here in Herefordshire.

Homemade scotch eggs

A choice of two homemade quiches made daily.

A large range of rice salads, couscous salads, potato salads

.
Vegetarian options will be available, will be subject to change each week.
If you still have room after your delicious salad you can tuck into a homemade cakes and or confectioneries with a different offering each week.
Alternatively for the children we have locally sourced ice cream scoops too.
Prices for Weekend Salad Bar:
£10.95 for a choice of 4 salads
**Booking is adviseable**
Please book on 01432 850 009 and press the option 4 for The Mulberry Cafe
or
Email us at: [email protected]
The Carvery will be returning to The Mulberry Cafe in the autumn.