Patio Furniture and Accessories
CUSTOMER NOTICE
ALL WEBSITE ORDERS ARE CURRENTLY CLICK AND COLLECT ONLY.
WE DO OFFER A LOCAL DELIVERY SERIVCE FOR ITEMS SUCH AS FURNITURE FOR HEREFORDSHIRE AND THE SURROUNDING AREAS.
PLEASE SPEAK TO A MEMBER OF STAFF IN STORE FOR FURTHER DETAILS OR GIVE US A CALL ON 01432 850 009.
Find great Garden Furniture in Hereford
Whether you're looking for dining sets, lounge sets or even garden furniture with built-in fire pits, Radway Bridge Garden Centre has covered. Visit our store if you live near Hereford or Leominster and enjoy the wide range of fantastic garden furniture for sale here. What is the best garden furniture? This greatly depends on your wants and needs. If you're looking for a nice decoration piece for your garden, opt for garden trellising, the best way to liven up your garden instantly. Instead of arranging your garden for maximum comfort, some patio furniture might be the best option.
Buy outdoor furniture at Radway Bridge Garden Centre
Radway Bridge Garden Centre believes quality is key. We know the best garden furniture is made with care and high-quality materials. This is of great importance since most garden furniture spends a lot of time outside. Which outdoor furniture can be left out?
Like aluminum benches and wooden benches, Garden benches can be left outside for extended periods. However, make sure to properly look after any wooden outdoor furniture since wood needs some extra maintenance from time to time.

All rattan garden furniture can be left outside. Rattan is a sturdy material that also happens to be completely waterproof. Don't forget to store away pillows, rugs, or plaids in case of rain or heavy wind.

Other garden furniture pieces that are better taken inside without too much wind include parasols and Mercer relaxers. These are lightweight items and can easily be picked up and thrown by a stronger gust of wind. On top of that, strong breezes can easily catch onto parasols, and the long poles can cause some serious safety hazards when flung into the air.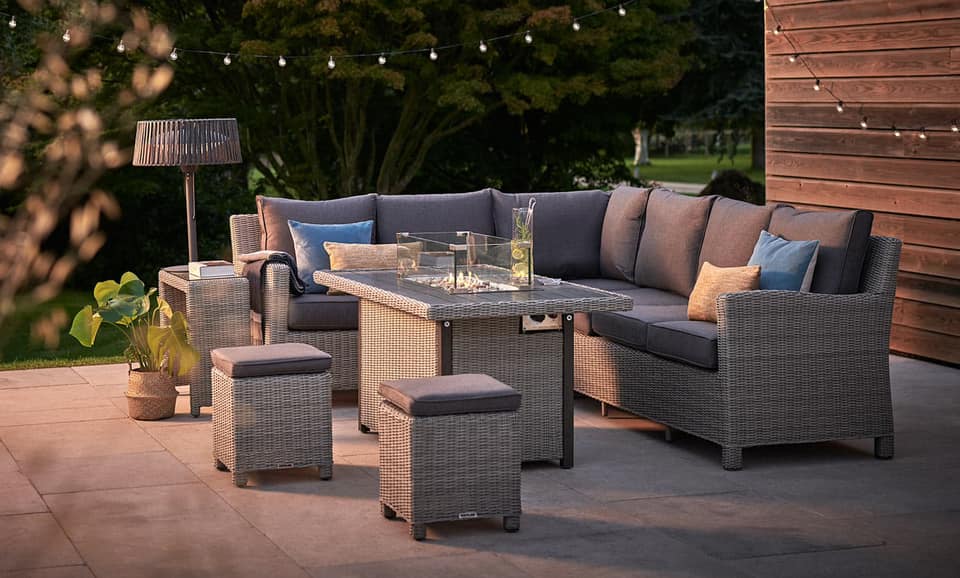 Where to buy rattan garden furniture near Leominster
Our garden centre staff often questions the best way to clean rattan furniture. That's why Radway Bridge Garden Centre near Leominster compiled a list of our best advice on cleaning rattan. Do you need any help with cleaning your outdoor furniture made of rattan? This is the way to do it!
How often should you clean your rattan garden furniture? Rattan can sometimes be hard to clean since it's a surface full of nooks and crannies. These can quickly collect dust and soil, so Radway Bridge Garden Centre recommends you clean your rattan about once a week by vacuuming it or giving it a thorough brush.
Radway Bridge also recommends a monthly cleaning for your rattan using a vacuum cleaner or brush and some water and soap. First, remove the dust from the weaving like you're used to, then go over it with a cleaning solution. Rub it firmly into the rattan and make sure you get all the soil out.
Buy the best garden furniture near me
Where to buy garden furniture near me, in Worcester, for example? You can find the best garden furniture at Radway Bridge Garden Centre in Hereford! Visit us in our store and enjoy our assortment of high-quality products at Hereford's finest independent garden centre and nurseries. After a long shopping day, stop by our great in-house coffee shop for a quick snack and tea. Our wide range of outdoor plants and Weber BBQ's can also be checked online, where you can use our click and collect system. Buy your garden furniture near me at Radway Bridge Garden Centre!